God got a Dog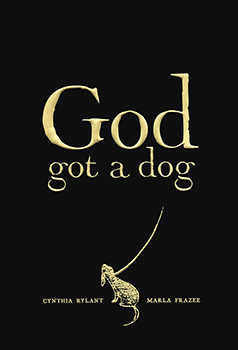 It's hard to be God. You have to, well, be GOD. But you also get to BE God. Which means you have quite a perspective on things...
Written by Cynthia Rylant
|
1-4424-6518-3
|
Beach Lane Books, Simon & Schuster
Awards
Indie Bestseller List 2013
SoCal Indie Bestseller List 2013

Booklist

Editor's Choice of 2013
Southern California Independent Booksellers Association 2014 Children's Picture Book Finalist
Reviews
"Funny, devout, and oh, so human."
"A lyrical celebration of where the divine meets the mundane... This is one book that's easy to pick up, but hard to put down again."
"In this interpretation, God and humans are co-creators of an evolving world. Though the poetry has been published before in a collection, the artwork is all new. Frazee's pictures, each facing a page of text, are a powerful contrast of light and darkness, restlessness and contentment."
Publishers Weekly
"A celebration of God's humanity and mankind's divinity."
Butler's Pantry Blog
"Rylant's God is us, and Frazee's us is God, and there you have it."
Betsy Bird, NYPL
"This book is for everyone... a book that trusts in the intelligence of its readers, even as it attracts adults... it makes God relatable and infinitely likable."
More!